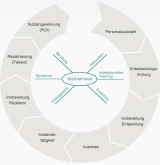 Circle of staff deployment
The optimal staffing situation of your overseas office requires professional recruitment, starting from intercultural training up to local coaching. In order for the staff deployment to be successful on a long term basis, it also requires professional repatriation of your staff.
We support your colleagues to be able to fully integrate into your organization. Therefore the know-how will remain within your company.